The global pandemic has been a litmus test for everyone personally and professionally. Whether you are a business looking for a suitable professional or a professional looking for an ideal job offer, there are new challenges to address.
As we continue to navigate through these times, it is essential to be cognizant of the new job market trends that are impacting the way employers are hiring and employees are choosing job offers. If you are a business returning to the new normal and looking to add experienced and skilled professionals to your team, here are five employment trends you need to know about:
1) The Employment Contract
Many employment contracts are now drafted to allow employers to lay off employees as well as reduce their wages and hours if needed, within a defined scope.
With uncertainty governing the global business scenario, it is no surprise that businesses want more flexibility when it comes to layoffs and reduced wages/hours. Many Canadian businesses are making sure to place provisions related to hours of work, salary etc., in their employment contracts at the outset, to avoid legal troubles in future. This makes sense as it is helping businesses ensure some room for drastic measures, should there be a lockdown situation in future. But more importantly, having this flexibility means businesses can provide more job opportunities to Canadians.
2) Flexibility to work safely
Candidates are selecting and rejecting job offers based on whether they have the flexibility to work remotely if their health depends on it.
Candidates are looking for employers that recognize some people are at higher risk than others and as such put plans in place to keep them safe. Loosely translated to- flexibility to work from home, is the most popular choice. But also, implementing mental health check-ins, assigning "shift work hours so a minimal number of workers are in the workplace at one time. Heightened and more frequent cleaning procedures and additional benefits and sick day allowances are other ways to keep employees safe.
3) Global Workforce
Businesses are now hiring from a global candidate pool.
Thanks to technological advances, the geographical boundaries for hiring are diminishing. Many businesses, especially those who are able to offer complete remote work can hire candidates from different parts of Canada or in some cases even from a different country to fill in a specific skill or experience requirement. Businesses may soon start competing to hire the best candidates on a global level.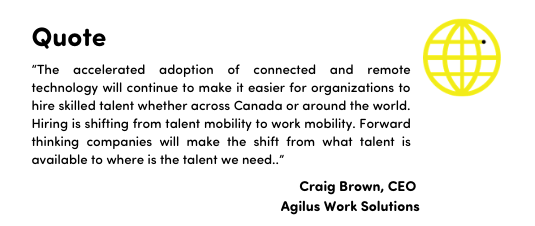 4) Employer of choice
Employees are selecting employers based on work environment, culture etc. when it comes to deciding between two best job offers
Employees want to choose an employer who can offer a work environment that aligns with their preferred culture, values, social purpose, and benefits (professional development, daycare etc.) With remote work, employees can be more choosey when selecting a workplace as they are not hindered by geography or commuting. As a result, employers have to be more competitive when promoting their organization's work culture to get the best talent.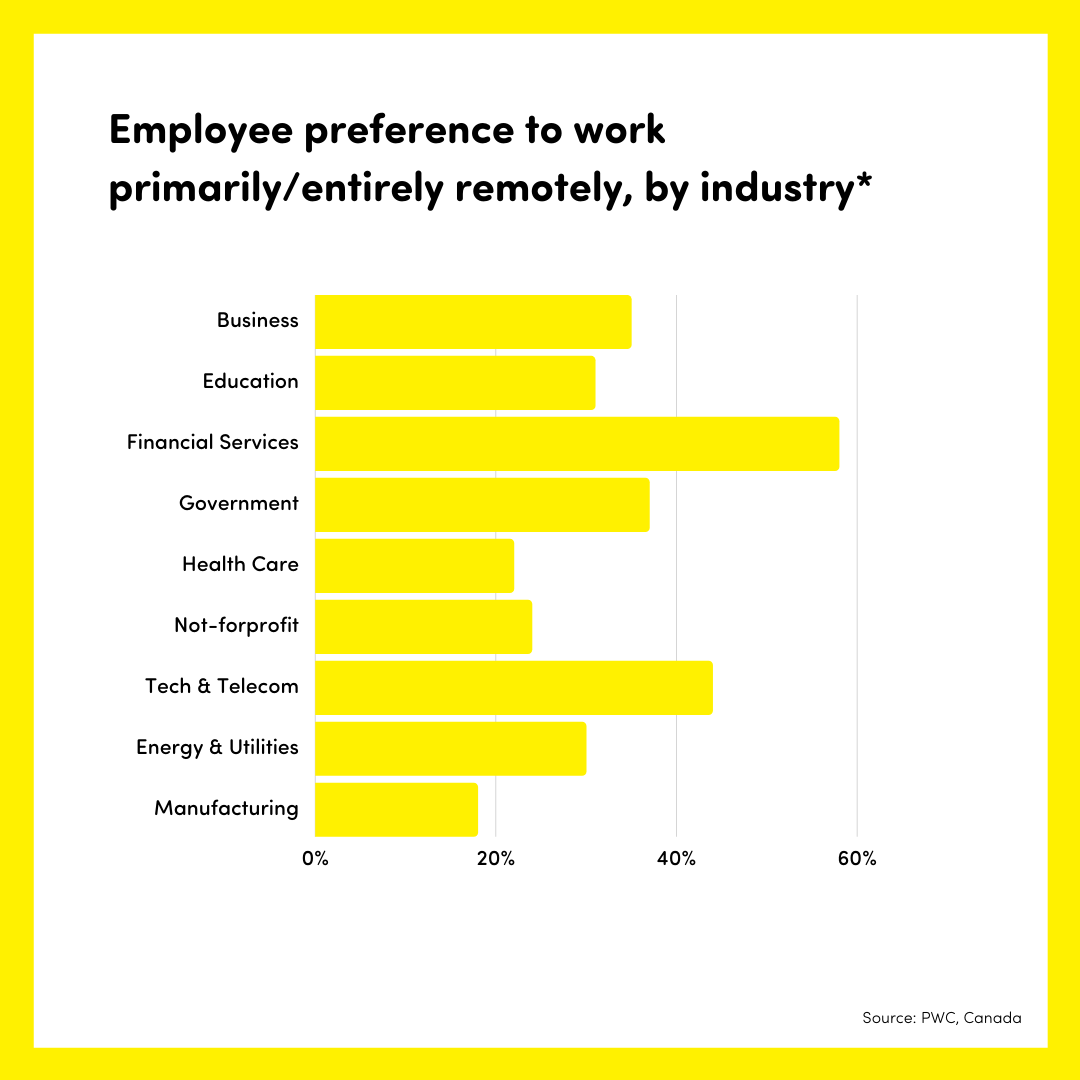 5) WFH or office, your choice
Businesses that offer better work life balance may become the top choice for professionals
Remote work environment is impacting several personal decisions for professionals. Long term decisions such as location of family home, moving to a remote location with better schooling system, opportunity for increase in monetary savings, and more time to pursue a hobby are some positive outcomes that are incidental to a complete remote work environment. This is why globally several professionals are choosing businesses and employers who offer this model of work as it helps them get a better work life balance.
According to a report by the Financial Post, employees are selecting and rejecting job offers based on whether they have the flexibility to work remotely if needed or exclusively. Employers looking to recruit "in office" roles are typically facing challenges finding the right candidates and are seeking help from professional recruiters to fill the gap.
Global businesses are realigning their teams, making changes to workflow, delegation of work and organizational changes to make sure that employees working from home and office are able to work in tandem as a team. However, as the covid-19 situation remains fluid, there may be more than one instance in future when employers may again have to shift their entire teams to remote work. In any case, businesses today are realigning their work style to suit both, WFH and returning to office workforce. Many businesses in fact have completely shifted to remote model and saved on operational expenses but will this impact their culture and retention in the long run? Only time will tell.