We value a diverse workplace!
At Agilus, we believe that diversity, equity, inclusion and belonging are integral to our success. We recognize the value a diversified workforce brings to our organization. We annually measure our diversity against the Canadian population. While we exceed expectations in many areas, we recognize there is more we can do in some areas within our candidate base and employees in our organization.
Agilus is committed to ensuring a diverse & inclusive experience
Diversity and inclusion are not just integral to the success of our internal team but are also a critical component to ensuring the success of our clients and candidates. Our hiring practices focus primarily on candidate skill, experience, and qualifications to ensure fair hiring practices. We are strong advocates of genderless job descriptions, addressing unconscious biases and blind recruiting in the job order process.
We are fortunate to work with clients who lay special emphasis on hiring candidates that may have been marginalized due to their nationality, race, gender, or religion.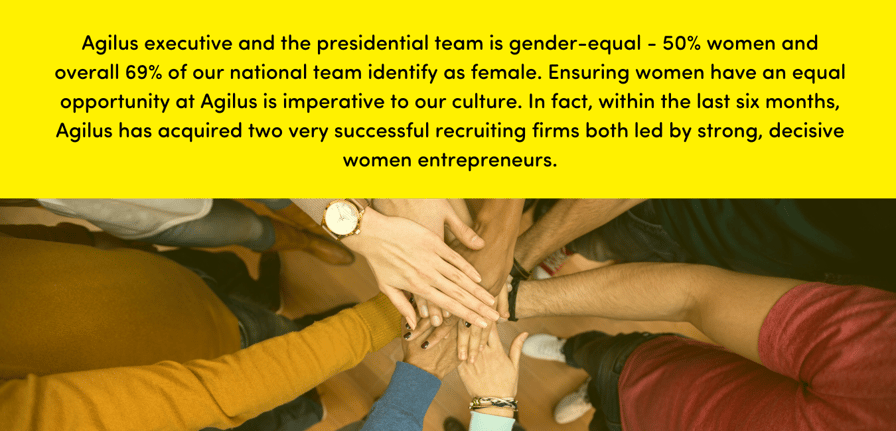 Stream Source - our focus on Indigenous recruitment
With a goal to secure long-term sustainable employment, partnerships for Indigenous people and businesses, and community investment, we have partnered with Stream Source - an Indigenous-owned provider of recruitment and contractor management. Stream Source recognizes the need to better understand the history of Indigenous people and their inclusion in resource and energy developments since much of the development is happening in and around these communities. With this knowledge, strong community relationships, and a solid infrastructure, Stream Source is setting new benchmarks and best practice standards across the scope of Indigenous employment and engagement.
Our diversity & inclusion resources
Check out our additional resources below to see how else we encourage and support diversity & inclusion within our work community: