It may be time to say "goodbye" to the talent drought, as Canada added 100,000 more workers to the overall labour force last month according to Statistics Canada's August labour report. Meanwhile only 40,000 jobs were added to the Canadian economy last month, while this is nearly twice as many new jobs than expected, it's only half the amount needed to keep up with population growth. However, looking at the raw numbers, we are starting to see a trend of more workers than job starts.
Last month we shared with you that Statistics Canada's July report revealed a stable yet evolving employment landscape in Canada. The same can be said for this month with the unemployment rate unchanged at 5.5% and the overall employment rate falling a mere 0.1%. While the last few years have been a job seeker's market, we see changes in labour market that indicate this period is ending.
Job changing rates are on the decline
The job-changing rate measures the proportion of workers who changed jobs from month-to-month while remaining employed. In August the job-changing rate was down to 0.4%, this is nearly 100% lower than it peak in January 2022 at 0.8% and the average of 0.7% observed from 2017-2019, before the pandemic.
Meanwhile, the labour market churn, which refers to the frequency at which unemployed individuals find new jobs, has also reduced. Of those who were unemployed in July, 57.8% remained unemployed in August – up 4% from this time last year.
On its own the job-changing rate could be seen as a positive — indicating that workers are settling into jobs and recovering after the mass layoffs and changes throughout the pandemic. Unfortunately, for those looking for new employment opportunities, this information combined with the reduced labour market churn tells us that the labour market has ultimately become less favourable to job seekers seeking new opportunities.
Changing dynamics of remote and hybrid work
There's a bit of a good news/bad news story when it comes to remote and hybrid work for those who prefer to avoid daily commutes and the office. The biggest declines in shares of workers working exclusively from home were found in public administration (-11.9%); finance, insurance, real estate, rental and leasing (-7.9%); and professional, scientific and technical services (-6.5%). Averaging across all industries the proportion of workers exclusively working from home was down 3.2% from this time last year.
All is not lost for those who prefer a bit more flexibility in their work arrangement though. As of August, 10.3% of Canadian workers are enjoying a hybrid schedule – up 1.7% from last year. Interestingly, it appears across Canada that in-office days are pretty evenly spread out throughout the week with Mondays and Fridays being the least likely days (other than the weekend) for employees to commute to work. Statistics Canada found in August that most workers with a hybrid schedule work on-site on Wednesdays (51.4%).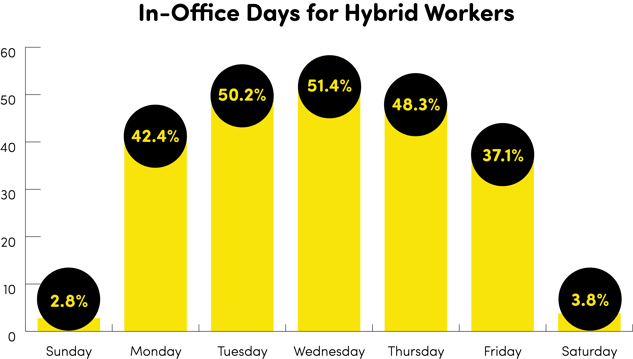 At Agilus, we've embraced a hybrid model ourselves – in office on the two most popular days of the week, Tuesdays and Wednesdays. "It's clear that the flexibility offered by this work model resonates with our team, allowing them to achieve a healthier Work+Life balance, while connecting with teammates and honing skills through collaboration and in-person activites ," says Craig Brown, CEO of Agilus. "This shift towards hybrid work arrangements isn't just about adapting to the times – it's about creating an environment where our employees can thrive - personally and professionally. It's a win-win all around."
Low-wage employees requiring multiple jobs out of necessity
With the increase of gig-work available through apps such as InstaCart, Uber and TaskRabbit, the practice of holding multiple jobs has become increasingly common. However, it's essential to recognize this trend doesn't affect all workers equally. While some may be picking up extra work to purchase new toys and plan vacations, over one-third of multiple jobholders are doing so out of sheer necessity, primarily driven by financial struggles and the high cost of living.
For low-income workers, the burden of multiple jobholding is particularly pronounced. In August, 7.5% of employees earning less than $800 per week in their main job held multiple jobs, compared to only 4.2% among those earning $800 or more. This stark contrast highlights the grim reality that many low-wage earners face – their primary employment simply doesn't provide sufficient income to make ends meet.
Moreover, multiple jobholding disproportionately impacts racialized groups in Canada. Among Black workers, the multiple jobholder rate was 7.4%, while Filipino workers topped the list at 8.0%. This disparity reflects the systemic challenges faced by these communities in accessing stable, well-paying employment opportunities.
What's even more striking is that recent immigrants, especially those admitted to Canada less than a decade ago, are more likely to hold multiple jobs due to the necessity of covering essential expenses. A staggering 50.8% of immigrant workers admitted within the last ten years cited this as their main reason for juggling multiple jobs, compared to 29.8% of Canadian-born workers in the same situation. Among racialized Canadians, the share of multiple jobholders working multiple jobs out of necessity was notably high, especially among Arab (76.2%), Latin American (63.1%), and Filipino (51.4%) workers.
Looking Forward
While the unemployment rate remains steady at 5.5%, and the job-changing rate has declined, it's evident through the data released in Canada's August Labour market that job seekers are going to experience less open roles, more competition and won't necessarily hold all the cards when negotiating job offers.
Moreover, the landscape of remote and hybrid work is in a state of flux, providing newfound flexibility for individuals seeking alternative work setups. Nonetheless, it's crucial to acknowledge the hurdles that low-income workers and equity-deserving communities encounter when grappling with multiple job commitments.
It's crucial to have a good grasp of the Canadian labor market and assess the risks your business may face. With our extensive 46-year track record, we have a proven history of assisting employers in finding exceptional candidates and enhancing their hiring strategies. Our team of recruitment and human resource experts across the country is well-equipped to guide your business through the uncertainties of the current economic landscape, help you develop a compelling Employee Value Proposition, and most importantly – connect you with the right people right away. Take the first step and reach out to us today to get started on this journey.