The job opportunities for professionals working in data science are numerous. Every day there are new sources of data and new positions to gather, organize and interpret these points of information. At Agilus Work Solutions, we work with technology companies and traditional businesses who are generating data and identifying insights and trends. Among the titles we frequently hire for include:
Data Architect
Data Engineer
Database Administrator
Data Architect
Business Analyst
Data and Analytics
Quality Assurance
Cyber Security
Full Stack Developer
Cloud Experts
If you are someone who loves decoding data, deriving inferences and possesses an analytical mindset, becoming a 'Data Analyst' or a 'Data Scientist' may be a natural career choice for you. And if you are already working in IT but wondering what your next step should be, the following might give you some ideas on where you could progress.
What distinguishes a data scientist from a data analyst?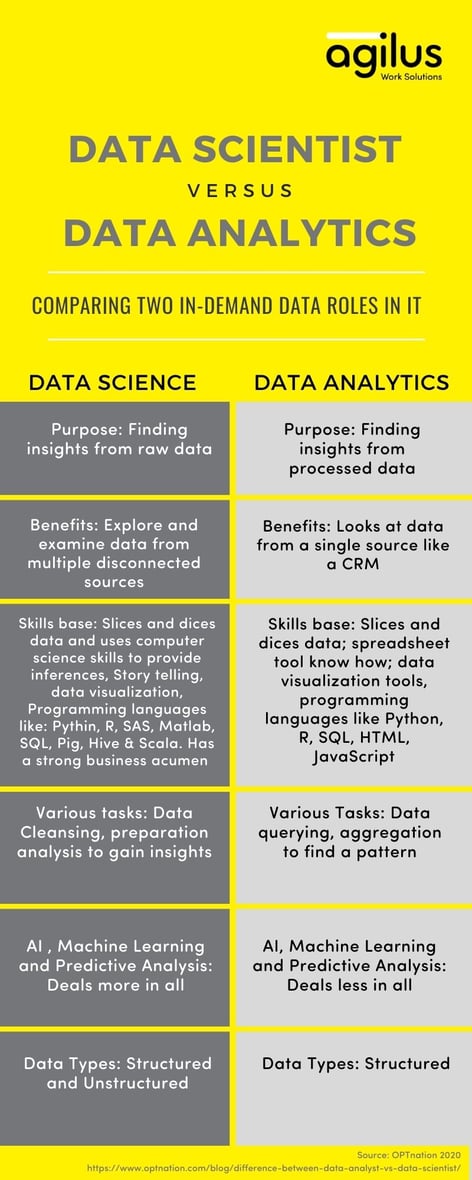 There is a general perception that the role of data scientist is just another name for data analyst. A major reason for this confusion is the way businesses across the globe define the scope within these two in-demand roles in Information Technology (IT).
A Data Analyst is someone who analyzes data and seeks to recognize trends based on the data within a set of parameters. A Data Analyst tells a story based on data, potentially leading to a business decision, based on those insights. Typically, data analysts use visual representation tools like charts and graphs. There is less need to understand the underlying business issues asking to be addressed and typical work within a set of pre-determined questions.
Data Scientists excel at the art and science of extracting actionable insight from raw data. They are highly skilled in machine learning, advanced programming, algorithms, predictive models, artificial intelligence etc. Data scientists are also likely to have coding and mathematical modeling experience and have capabilities to create new processes for data modeling. They have a strong business acumen and understand the how business works. They proactively identify business issues and look for the data to solve or mitigate these risks
There are further specializations within each role:
Data Scientists – Data researchers, Data Developers, Data Creative, and Data Business
Data Analyst – Data Architect, Database Administrators, Analytics Engineer and Operations
More often Data Analysts progress to being Data Scientists after gaining some experience and furthering their education.
Qualifications
Some core qualifications for Data Analyst are: (based on multiple roles posted on Glassdoor)
A degree preferably in mathematics, statistics, or even business
Experience of working with languages such as SQL/CQL, R, Python
Analytical skills, strong intellect and reporting acumen
Solid background in technology, data mining techniques, agile methodology
Strong written and verbal communication skills
According to Glassdoor, some core qualifications needed for Data Scientist are:
A masters or doctorate degree preferably in mathematics, statistics, or computer science
Strong business acumen
Experience of data architecture and machine learning
Experience in statistical and data mining techniques, working capability in generalized linear model/regression, boosting, mining etc.
Experience in programming languages such as Python, R, MySQL, Hive, HTML, JavaScript, Scala, etc.
5-7 years' experience in data set manipulation and statistical models
Experience in web services, third-party providers analytics platforms, distributed data computing tools and data visualization experience.
Salary
According Glassdoor the average salary for Data Scientists in Canada is $83,000 per year and the average salary for Data Analyst in Canada is $59,000 per year.
Job Opportunities
A recent study suggests that the global Data Analytics Market is expected to grow at a CAGR of 30.08% from 2020 to 2023, which would equate to $77.6 billion.
If you are good in math, statistics, and programming and also possess an advanced degree in one of these fields, we can find help you get your foot in the door. If you already have a career data analysis and your wondering what the market is like, how you can transfer your skills to a specialization, or what companies are currently looking for experience talent, let us know and we can help: info@agilus.ca
Check out our open IT positions on our website: Agilus.ca
References on request.