Do I need a Designation or Certification to succeed in an Accounting career?
During the current and unprecedented circumstances, one of the things keeping professionals busy is, adding skills and certifications to their professional portfolio.
Whether you have been laid off or have reduced working hours due to COVID-19, as an Accounting Professional, now is an excellent time to pursue your designation. Careers in the Accounting field require a minimum undergraduate degree. Although you may already have some related experience or a degree in Accounting, earning a designation can propel your career forward. Depending on your expertise and interest, there are many options.
Accounting Designations in Canada
Selecting the right designation and path of development can be challenging. Designations often require several years of study, examinations, and potentially years of work experience. Professionals holding designations can tell you – it is worth the investment in yourself. It is important to remember that each designation differs from the rest and is typically focused on one career path.
You may be asking yourself is one designation enough? Will it enhance my career? Will it help me achieve a promotion or qualify for increased earnings?
Here are the top certifications in accounting
Before 2012, CA (Chartered Accountant), CGA (Certified General Accountant), and CMA (Certified Management Accountant) existed as distinct designations in Canada. In 2012, over 40 different provincial and national accounting associations representing CA (Chartered Accountant), CGA (Certified General Accountant), and CMA (Certified Management Accountant) across Canada merged under a single designation, now known as Chartered Professional Accountants (CPAs). It is interesting to note that of all these designations, the CA is still widely recognized internationally.
Certified Professional Accountant (CPA)
The CPA designation has emerged as a gold standard when it comes to a list of accounting certifications in Canada. As it includes a combination of three important prior designations, CPA is widely recognized and respected. CPA helps professionals to develop versatile accounting capabilities. This includes working as:
Auditors

Taxation Specialists

General Accounting Services

Financial Consulting to businesses
CPA is a perfect choice if you are looking to add value to your resume, especially if you are an accounting undergrad student or have gained at least 8 years of experience in auditing or financial reporting.
CPA Canada has more than 217,000 members across Canada.-CPA Canada
Certified Management Accountant (CMA)
The CMA certification focuses on combining management training with basic accounting principles. CMA doesn't train or certify professionals to perform public audits, make reports or perform tax duties. It is typically suited for a management position and is perfect for someone who is interested in a management role like management accounting, financial analysis, or business management. CMA is a popular designation among professionals who aspire for executive-level roles like COO or CFO.
To get a CMA designation, you will need to consider some basic requirements. This includes, membership of the Institute of Management Accountants (IMA), possessing a bachelor's degree from an accredited college or university and, exhibiting at least 2 years of professional work experience related to financial management or management accounting.
Bookkeeper Certification
Although the bookkeeping profession is currently unregulated in Canada, many colleges and schools still have several certificate programs that can help you get this certification. A bookkeeper is responsible for maintaining business records. For instance, jobs like recording daily transactions related to sale/ purchase or business expenses are something that comes under the bookkeeper's responsibility. Many bookkeepers also look after bill payments, invoicing, and in some cases even managing payroll for clients and individuals. Like many other professions, the title of bookkeeper and accountants are often overlapping in many organizations, in which cases, the generation of financial reports may also be a job function for a bookkeeper.
The coursework for this certificate typically involves courses related to record-keeping and accounting software like 'Simply Accounting', for example. To gain the Certified Professional Bookkeeper (CPB) designation, you need to have at least 2 years of professional experience as a bookkeeper and must pass the bookkeeper exam. The Institute of Professional Bookkeepers of Canada (CFB) offers this certification.
Why choose an Accounting designation?
Securing employment and being more qualified for promotions are key reasons why many new Canadians, recent graduates, and experienced professionals opt for a certification. Unlike many other professions which go through changing job market demands, accounting and finance professionals are always in demand. Whether it is individuals or businesses, everyone needs an accounting expert to help them with finances and taxation.
This is why many accounting professionals often build a career as freelance consultants offering their taxation and financial services to a variety of individual or business clients. In addition, many larger businesses also tend to have in-house accounting team which employs professionals holding financial designations.
The future of CPA in Canada
Trend analysis from the Canadian Occupational Projection System (COPS) suggests that between 2019-2028, the number of job vacancies for Financial auditors and accountants is expected to total 79,600. The same report suggests that about 79,500 job seekers are expected during the same period to fill the job vacancies.
This implies that the balance between the number of vacancies and job seekers is expected to be broadly in line for this occupation group over the 2019-2028 period at the national level.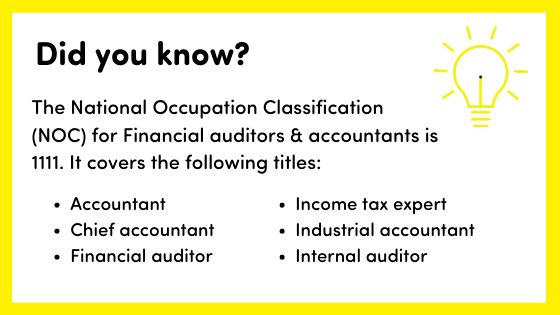 In terms of earnings, CPAs can expect a positive outlook. According to the Canadian Occupational Projection System (COPS), the pay rate for a designated CPA/CA can be anywhere between $19.50- $57.69, based on experience and location. Northwest Territories and Alberta have the highest pay rates.
If you are considering a career change, are a new Canadian, or simply want to upgrade your career portfolio, Accounting is a great field to find a lucrative and stable career. Check out our job listings for open Accounting and Finance positions.