In its latest labour force survey, Statistics Canada reports that one-third of workers aged 25 to 54 engaged in professional and personal development in the past 12 months. Training included participating in courses, seminars, conferences and private lessons through an employer, a private firm, or an online platform.
This passion for learning is no surprise since Canada leads the G7 for the most educated workforce, according to 2021 census data released last month. Over 57 per cent of workers aged 25 to 64 have a college certificate, diploma or university degree. Further supporting this trend are employers looking to cross-train and reskill employees as a retention solution to the talent shortage, and many workers in Canada upskilling to increase their income potential and leave lower paying industries.
Capitalizing on our highly educated population is a key public policy to ensure that Canada has enough trained workers to fill the spaces left by our ageing population nearing retirement.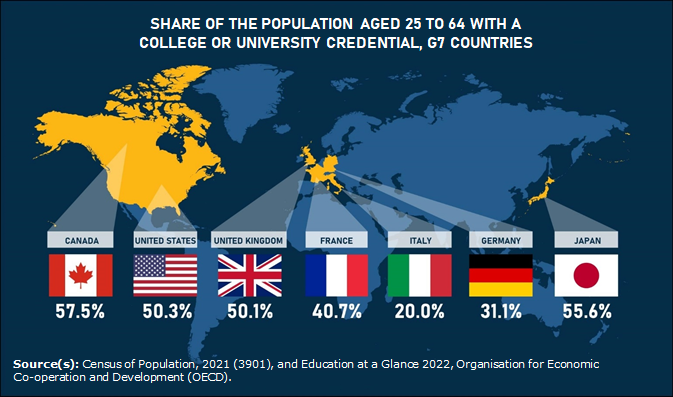 Statistics Canada says new immigrants make up nearly half of that growth, holding a bachelor's degree or higher. However, one-quarter of all immigrants with foreign degrees remain overqualified for their current occupations. This is more than double the overqualification rate for Canadian-born degree holders (10.6 per cent) or immigrants holding a Canadian degree (11.8 per cent).
Employers who overlook exceptionally qualified immigrant job candidates miss out on a broader imperative toward diversity, equality and inclusion among their workforces. Respect for diversity and inclusion is a strong Canadian value, and those employers who hire immigrants can benefit from a more favourable corporate reputation.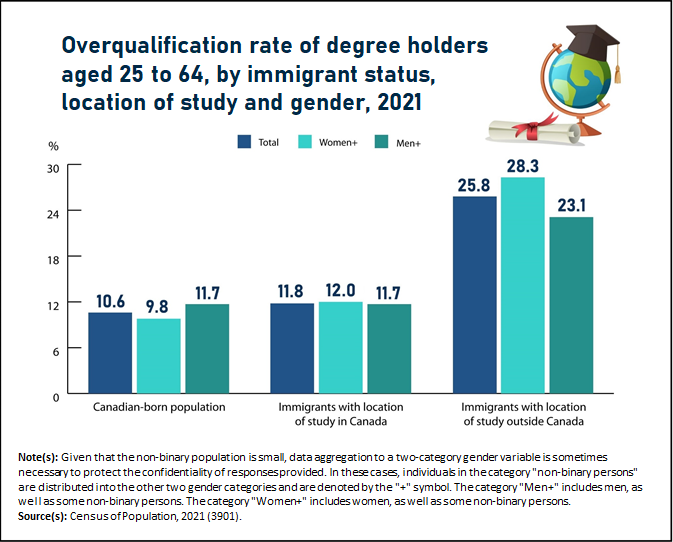 The proportion of workers with hybrid work arrangements continues to go upward
The proportion of workers who have hybrid work arrangements rose by 0.4 percentage points to 9.4 per cent in November. The hybrid work model has continued an upward trend since the beginning of 2022.
According to the Census report, knowledge workers with a bachelor's degree or higher were likely to maintain a hybrid work model, as they worked in sectors where remote work was proven successful during the pandemic lockdowns. Employers who can offer flexibility (hybrid work or remote work) have been able to attract and maintain educated workers in the tight Canadian labour market.
Looking ahead
Maintaining Canada's economic growth and standard of living is predicated on having a highly-educated population. Therefore, businesses in Canada should rethink the value candidates with foreign degrees bring to their workforce. With no sign of the talent shortage waning, foreign immigrants offer untapped potential through their degrees and foreign work experience. As the Canadian population ages, the adoption of highly educated foreign workers into roles that they are qualified for, will become an essential business strategy for forward-thinking businesses.
At Agilus, we are committed to helping newcomers, and new Canadians find jobs and grow careers of their choice. We have plenty of resources to help newcomers build new careers in their new home.