So, you've just signed back an offer of employment or decided you no longer want your current job. If you are thinking of leaving your current employer, you are not alone. In fact, LinkedIn found that the majority of 4,000 workers surveyed are considering to leave their jobs in 2023. Resigning from a job is a significant life decision regardless of your reason. However, we strongly recommend you do certain things to leave a job on a high note.
Even if you leave on good terms, discussing terminating your employment can be a strange experience. So, while you are excited to take the next chapter in your career, you need to know what to do to resign from your job professionally. You never know when you might need a reference or a past employer could become a potential customer or advocate.
When resigning, provide your employer advance notice. Most employers require a two-week notice; however, check your employment contract or company policy for how much notice you are expected to give. If you are in a senior position or exceptional circumstances apply to your situation, as a courtesy, you may want to offer to stay longer.
You should speak directly to your manager when delivering the news. They should be learning this information from you first rather than from your colleague. Having your intention to leave reaching them through office gossip is unprofessional.
Resign in person when possible. Schedule a video meeting or call your manager if a face-to-face meeting is not an option.
Follow up with a formal resignation letter to ensure everything is clear about your departure. Many companies include this letter in the employee file as an FYI
Before you leave, take the time to say goodbye, whether in person or by sending a farewell email.
Remember, despite giving two weeks notice, you may be "walked to the door" if you are resigning to work with a competitor. Don't take this personally.
You may be asked to attend an exit interview. An exit interview is usually performed by an HR representative who may want to know what you think could be improved or what was working well. Consider and prepare answers in advance - be respectful, objective and offer feedback thoughtfully. Seriously consider if honesty, if it is negative, is the best response for you in the long term.
What to include in the resignation letter:
State the date you plan to leave the company in the opening paragraph.
Express gratitude for your time at the company. Emphasize the positive and talk about the projects you enjoyed working on and how the company has benefited your professional growth. While gratitude isn't mandatory, it allows you to maintain professional relationships and thank your employer for their resources in your career growth.
If feasible, offer assistance with transition in the coming weeks and afterwards. Document any processes that your colleagues will find helpful during the pass-off.
Although optional, you may include a non-company email address or another contact information if you want to leave the door open for future communication, such as a former employer reference.
What not to include:
No need to express why you are leaving or details on what you plan to do next. Keep it short and straightforward.
Don't brag about your new job. While you might be embarking on a better opportunity, you should not focus on the advantages of your next role. Again, it can be seen as disrespectful and tone-deaf.
It goes without saying, but you should not write anything negative. Sometimes the circumstances surrounding your resignation are unpleasant, but it is never a good idea to complain about the company, work environment or your colleagues. Writing a respectful resignation letter can mean the difference between an awkward departure and a chance for a future reference or a long-term professional connection.
Ready to put your resignation in writing? Here is a sample of a professional resignation letter.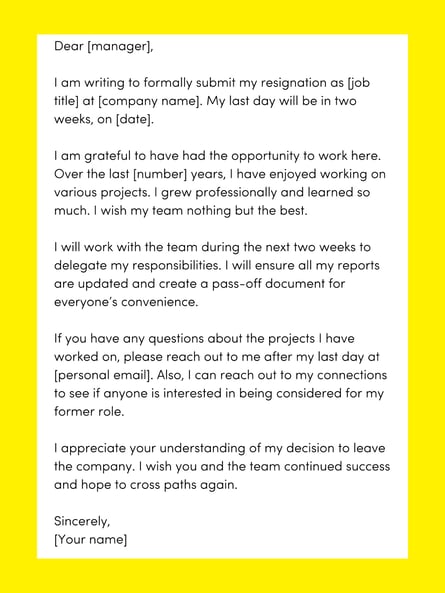 Kick off your search for a fantastic job with us. Don't see anything to meet your qualifications, register your resume and let us find the best opportunities for you.
For more than 46 years, Agilus has served our candidate and employer networks, connecting great job seekers with meaningful employment. We place nearly 10,000 job seekers in roles every year in Engineering, Technology, Professional/Office and Light Industrial roles. We have 100 recruiters across Canada who can help you find your next role or help you find that new career path. For more information about Agilus, please follow us on LinkedIn, Facebook, Instagram and Twitter or check out our current open roles.