The future of remote work: A look at current trends and Canadians' needs
The COVID-19 pandemic has dramatically altered the work landscape, as many companies have embraced remote and hybrid work models in response to changing circumstances. However, a new report from LinkedIn suggests that the trend may not be as central to the future of work as some professionals expected.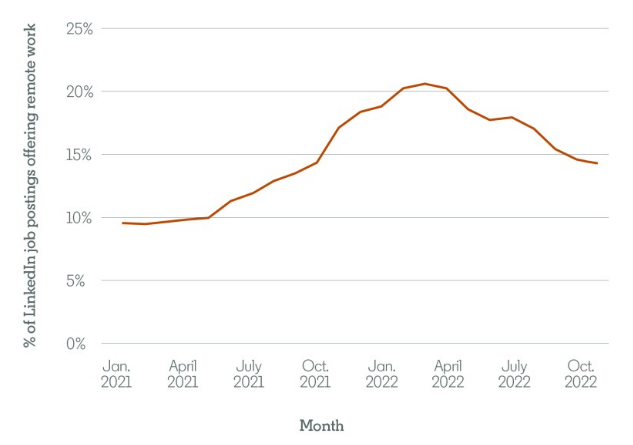 As seen in the chart above, data from LinkedIn's Economic Graph team shows the rapid rise and fall of employers' willingness to create remote-work job postings. The analysis is based on a review of more than 60 million paid job listings on LinkedIn since January 2021.
According to the US Labor Department, the work-from-home era may be over, with 73% of US businesses reporting that they offer their employees little or no remote work options. The same report notes that hybrid workplaces have also become less common, with only 16 percent of businesses reporting that their teams work from home sometimes, compared to 30 percent the previous year.
In Canada, however, the trend towards remote work appears to be gaining steam. Recent surveys have found that Canadian workers are overwhelmingly interested in remote jobs and are willing to take pay cuts to keep them. However, some big Canadian employers are pushing back against this trend, insisting that employees return to the office more frequently.
According to a financial tech company, Hardbacon, 80 percent of Canadians working 100% remotely or in a hybrid arrangement would look for a new job if their employer forced them to return the office every day. This suggests that remote work is not just a fad but a fundamental shift in how people want to work and live. As such, employers should consider adapting to the changing landscape to attract and retain top talent in the coming years.
Despite the mixed signals, remote work remains an added benefit for many industries, including technology, finance, staffing, engineering, and more. While working from home may only be feasible for some businesses or industries, the trend towards remote and hybrid work models will likely continue as more companies explore the benefits of flexibility, productivity, and cost savings.
Work flexibility is fundamental to Canadians, especially women. According to Pamela Jeffery, Founder and CEO of The Prosperity Project, women want to work and contribute to their country's and families' economic well-being and they are looking for employers that offer that flexibility. A recent survey of 800 women showed that:
Fewer women are working full-time compared to before the pandemic
91 percent prefer remote work post-pandemic
Nearly half say they are likely to quit their jobs if asked to return to the office full-time
To combat labour shortages that Canadian companies are currently facing, hybrid work can be an attractive option for companies looking to offer greater flexibility to their employees and compete for talent. According to a recent report by Angus Reid, employers who want their workers to return to the office full-time may need to offer additional incentives. The report revealed that workers would be more willing to return to the office if offered benefits such as a pay increase, more flexible work hours, more vacation days, or better benefits. However, only 12% of those surveyed said they preferred to return to the office full-time. This suggests employers could use remote work capabilities to attract talent, as flexible work hours and remote work were among the top five most important factors for Canadian office workers when considering a new job. These factors were rated higher than other perks, such as workplace culture, growth opportunities, and advanced training.
Bottomline, employers that offer flexibility through remote, hybrid or asynchronistic work are going to win the talent war at least for the foreseeable future and this can mean the difference of staying open or shuttering your business in the current tight candidate market.
For more than 46 years, Agilus has served our candidate and employer networks, connecting great job seekers with meaningful employment. We place nearly 10,000 job seekers in roles every year in Engineering, Technology, Professional/Office, and Light Industrial roles. Agilus boasts nearly 900,000 candidates in our work community and work with Canada's top employers to find qualified professionals that fit their business needs. Please follow us on LinkedIn, Facebook, Instagram and Twitter or check out our current open roles.