Cold, Flu and Covid:
Sneeze into your elbow.

Wash your hands with soap and water after coming in contact with public spaces.

Avoid touching your hands, eyes or nose when in public.

If you feel unwell - stay home and avoid contact with other people.

It's OK to wear a mask in public if you want to.

Vaccines are an important way to keep everyone safe. Make sure they are kept up to date.
Workplace Safety
Whether you work on a construction site, warehouse or office, workplace safety is everyone's responsibility.
To help ensure everyone at work is protected and everyone get home safely each day, everyone must play an active role in upholding our workplace safety program. If this pandemic has taught us anything, it's that health & safety in the workplace is very importance and deserves our attention.
A workplace safety program consists of all the processes, protocols, and guidance put in place to help mitigate risks on-site and reduce injury and illness rates. All employees must be fully invested and committed to these workplace safety tips to help create a safer work environment. When we all show a dedication to safety, different risks and hazards on-site can be quickly identified and corrective actions can be set.
As always, if you feel a workplace safety policy/practice/situation is not safe, speak with your manager or Health & Safety representative.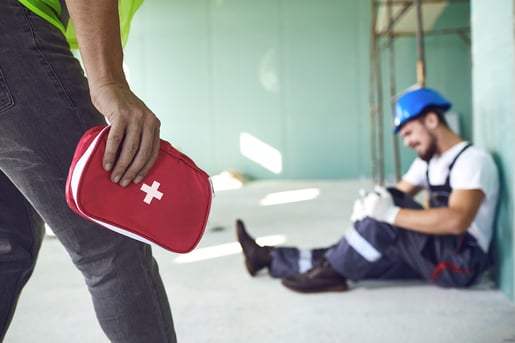 Always report unsafe conditions

Keep a clean workstation

Wear protective equipment

Take breaks

Don't skip steps

Stay up to date with new procedures or protocols

Maintain proper posture

Offer guidance to new and returning employees

Do not leave machinery running unattended

Replace broken or old PPE

Focus on your work at hand

Report unauthorized people in your workplace who are not accompanied by a colleague or supervisor

Do not work alone in a building or office

Be aware of your surroundings when waiting for public transit or walking to your car

Be familiar with the location of your first-aid kit and who has completed their first-aid training.

Know your fire safety escape plan, meeting place and fire marshal.
Working in an office or at home?
Having an ergonomically correct workplace will ensure proper posture and mitigate carpal tunnel syndrome, back and neck pain, headaches and eye strain.
It might be tempting to slouch on the couch or lay in bed but more than twenty minutes in this position and your going to regret it.
Download our Ergonomic tips for proper laptop use.