A lifetime of eating right and maintaining a balanced diet can help prevent many chronic illnesses that are on the increase in Canada. As our population ages, we are understanding that a diet full of processed foods, sodium and sugar can have long term affects. A poor diet can result in Type 2 diabetes, hypertension, heart disease and stroke, some cancers and overweight and obesity.
The benefits of healthy eating:
May help you live longer
Keeps skin, teeth, and eyes healthy
Improves complexion
Supports muscles
Boosts immunity
Strengthens bones, hair and nails
Lowers risk of heart disease, type 2 diabetes, and some cancers
Supports healthy pregnancies and breastfeeding
Helps the digestive system function
Helps achieve and maintain a healthy weight
So obviously the benefits far outweigh the risk. So why don't we eat better? Easy access to fast food, not understanding what is in our food, time constraints and convenience drive our insatiable demand for processed foods. In fact, food marketing, urban planning and groceries stores are all trying to keep you in the drive-thru lane.
However, a few small changes are all you need to begin to feel the effects of better nutrition. Don't try to do it all at once. Small steps made consistently, are the secret to changing your food habits.
The Iconic Canada Food Guide gets an Overhaul.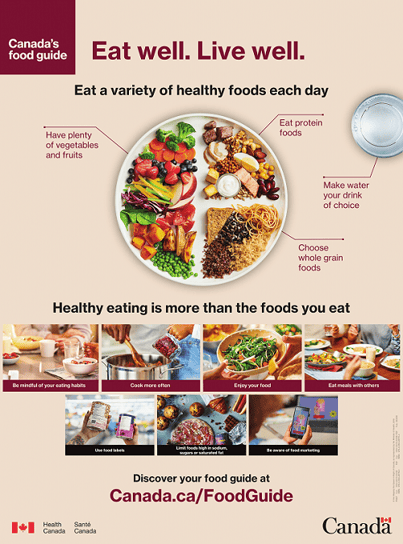 In 2019, The Canada Food Guide was updated for the first time since 2002. Health professionals, dieticians, nutritionists and food experts from Canada and across the globe were consulted to create an easy food guide for all Canadians.
Food groups and portions are a critical element of Canada's food guide. With a little planning and knowledge, you can make big improvements.
But it's not just about the foods you chose. You can help yourself make better choices by:
Being mindful when eating. Stay off your phone and savour each bite.
Cook more often. Cooking allows you to control the ingredients as well as sodium and sugar. Hidden sugar, trans fats and sodium in processed foods are a big contributor to high cholesterol.
Eat with Others. We are all striving for more connection. Breaking bread with others is a great way to share cultures, celebrate traditions and experiment with new foods.
Looking for more non-food ideas to help with your healthy eating? Check out the Canada's Food Guide.
Food Labels contain a wealth of information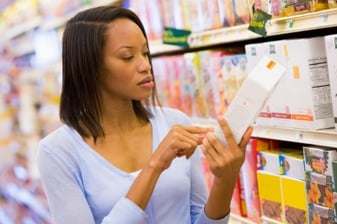 If you have a food allergy, or food intolerance you are familiar with food labels. If you're like most Canadians, you go to the grocery store list in hand and grab what you need, pay and race back home. Grocery shopping and in particular food labels, are a great way to start your healthy eating journey.
Canadian legislation requires food manufacturers to provide nutritional information on their labels. Understanding how to read food labels can help you take control of what you eat.
What can a food label tell you? By law, all prepackaged foods must have the following:
A Nutrition Facts table
An ingredient list
They may also have nutrition claims but they are optional. For example, a high source of fibre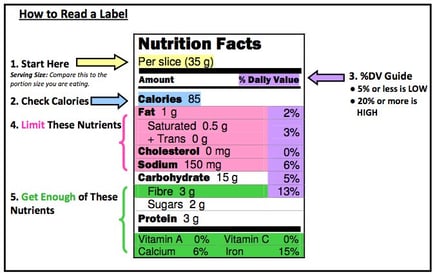 https://www.unlockfood.ca/en/Articles/Nutrition-Labelling/Understanding-Food-Labels-in-Canada.aspx
The Nutrition Facts table gives you a lot of useful easy to understand information:
learn about the calories and nutrients the item contains
make it easy to compare similar foods
look for foods that have a little or a lot of a certain nutrient
select foods for special diets
It must include the serving size, calories, % Daily Value and 13 core nutrients (fat, saturated fat, trans fat, cholesterol, sodium, carbohydrate, fibre, sugars, protein, vitamin A, vitamin C, calcium and iron). The format is consistent across all food products to allow for easy comparison between different items.
Interested in learning more? Read more here and here.