The Covid-19 pandemic has brought many changes to the global work culture. One of the biggest of these in North America is the need to create a diversified and inclusive work community. For many businesses creating an inclusive work environment, especially now that hiring and working have become a remote process, is new and challenging territory.
If you are a business owner or overseeing Human Resources and you are looking to strengthen and sustain the principles of diversity & inclusion, here are four proven strategies to make your workplace inclusive, even when you are working remotely:
Establish a policy or guideline.
One of the first steps to having an inclusive workplace is to have these values intentionally expressed. The best way to do so is to have an official Diversity & Inclusion Policy or a guideline. Write a short paragraph explaining your company's perspective and goals on D&I and the steps you are taking to imbibe them in your work culture.
This policy or guideline should be available on your website for your current employees, clients, job seekers, recruitment partners, and website visitors. Make it a mandatory discussion during the onboarding of new team members.
Having an official D&I policy exhibits your commitment to providing an inclusive work environment for your employees which means they feel they are valued and belong.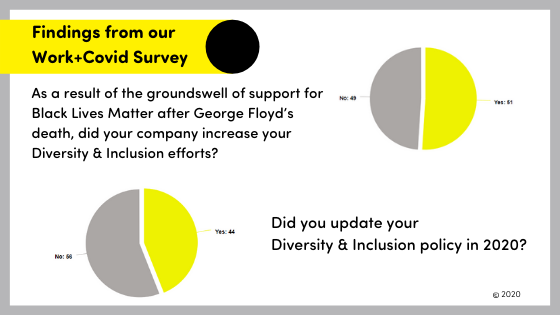 Read the Work+Covid Study from our Salary Guide to know more about hiring trends across Canada.
Offer Learning Resources.
Educating your employees, partners and clients is an important element of implementing a discrimination-free workplace.
Provide adequate resources such as a D&I policy, case studies, articles, etc., on your intranet and through your interactions with clients and candidates to educate them about being inclusive. Train your team members to be supportive of inclusive values. Encourage dialogue between coworkers to share individual experiences and promote empathy within your team. Host a virtual lunch and learn and invite HR or a guest to speak about unconscious bias and inclusiveness.
Listening to individual experiences helps to build empathy among coworkers leading to safe and productive work culture.
Create a safe space in your workplace.
Establish a Diversity & Inclusion team within your workplace.
Include people that share values of inclusion, empathy, and kindness in your D&I team as well as people who represent your organization (location, demographics, and a variety of positions and seniority). Having such a team can provide a safe space for individuals who may feel they don't have a voice. It can also provide a platform for people with common challenges to communicate freely and work to improve the overall organizational culture.
Encourage other employees to participate in D&I team programs and support causes that are close to your team members. Promote the goals and successes of this team across the organization and have senior leaders voice their support.
Align communication strategy.
Your overall communication strategy must align with your diversity & inclusion policy.
In today's remote environment, your social media pages and website are a window to your business. Make sure to keep all your website content, social media posts, job board posts, etc., positive and politically agnostic. Be wary of words that may seem discriminatory in your job postings and consider using neutral terms in your job description (i.e., Supervisor instead of Foreman and Executive Assistant instead of secretary) and during your interview process.
Use images of people from diverse cultural backgrounds and BIPOC to make sure everyone feels included. Use social media and websites to celebrate diversity and inclusion and recognize days that are important for your team.
Promoting an inclusive work culture is an important addition to your Employee Value Proposition to retain employees and attract high-quality candidates if you are hiring in Canada's job market.
Hiring & retention on your mind? Read our Talent Squeeze Report to gain insights on what business leaders across Canada are doing!